NSPA Faculty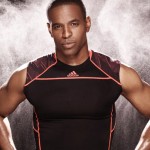 Khalid McLeod, M.S., CCS, CPRS, CSCS , International Speaker, Nutrition Consultant
(KAM) is one of the nation's leading health and fitness experts. With more than two decades of experience, Khalid's footprint in the health and fitness industry has crossed many boundaries.
His achievements have been well documented in various forums, including international lectures from Rome to Tokyo on topics which include: Adult/childhood obesity; Nutrition for elite athletes; Advanced program design and periodization.
Khalid has worked with highly conditioned athletes in the Major League Baseball (MLB) and theNational Football League (NFL).He has been involved in government contracts to develop and improve wellness programs and recruitment standards. He particularly enjoys working with collegiate and high school athletes, along with various trainers and conditioning specialists from all walks of life domestic and abroad.
Khalid's press accolades include the Washington Post, Baltimore Sun, Daily Herald, Chicago Tribune, Arizona Republic,  andFitness Style Magazine .
Throughout his stellar career, Khalid's work has been featured, most recently on Channel 8, ABC News Affiliate Morning Show, to promote health, fitness, and wellness to many professionals and purists through workshops, panels, and various forums.
As a former all conference Collegiate athlete, Khalid holds a dual Masters in exercise physiology and nutrition as well as various certifications from several organizations in the industry.
Dave Ruff, National Fitness Director, The Fitness Company
Dave Ruff has over 30 years in the fitness industry, 20 of which have been with New Fitness Concepts where he currently holds the position of National Personal Training Director overseeing fitness programming and protocols for clubs along the east coast. He is a graduate of the State University of NY at Cortland with a degree in Physical Education and Health education.
In addition to his college education and years of experience, Dave is certified in the following areas: NSPA Certified Conditioning Specialist, NSPA Certified Personal Trainer, NSPA Director of Cycling, Spinning Certified, and a Certified Back Care Specialist.
Dave has established fitness and personal training systems all over the country that have driven revenues, reduced expenses, improved efficiency and consistency while ensuring member satisfaction and safety. Dave has experience in several key areas including:
Personal Training Manual
Personal Training – 6 Trainer Education Modules
Personal Training Company Certification Program
Optimum Results Cardiovascular Training Program
Screening / Assessment / Safety
Personal Training Reporting and Payroll Systems
Facility Design and Equipment Layout
Coach Edge has been in the fitness industry for 23 years.  19 years as a certified trainer. Certified with:  NSPA, NSCA, and MORR/ Chip Smith (Competitive Edge Sports), ACE.
He holds a Bachelors of Science in Health/ Physical Education from Frostburg State University. Post Graduate studies at Western Maryland College/ McDaniel College. Former health and physical education teach with HCPS. Former owner of Edge Sports Performance and Fitness Center. Coach Edge has spoken nationally for Nutramax Labs on Strength and Conditioning for NSCA as well as for MAPHERD for fitness education. Recognized in Baltimore Magazine as "Baltimore's Top Trainer" in 2004 for The Arena Club. He had 7 seasons with Coach John Philbin assisting him with Washington Nationals in Spring Training
Mike was the Strength and Conditioning Coach for National and World Champion Kimmie Meissner where together they attended the Russian Cup in Moscow. Coach Edge has trained multiple Div I, II, and III college athletes in Soccer, Lacrosse, Football, Baseball, Field Hockey, Softball, Basketball and Ice Hockey. He has also trained multiple professional athletes in: Baseball, Football, and Lacrosse. Coach Edge resides in Harford County with his son Gannon, and daughter Mackenzie.
Neil King, M.D.
Dr. King founded King Chiropractic in 1984 with a commitment to providing compassionate care of the highest quality. A graduate of Logan College of Chiropractic in St. Louis, Missouri, Doctor King continues to teach and attend classes on rehabilitation, sports injuries, and pain management. He lectures each year at the War College on "Optimum Performance in the Senior Executive", has hosted a fitness show on WTEM radio, and was selected as one of the areas top sports doctors by Washingtonian magazine. Doctor King has also been featured on WTOP radio discussing heat related exercise injuries and the epidemic injuries associated with heavy backpack usage in schools, and has lectured at the FBI, The White House, and The Department of Health and Human Services.
A strong believer in exercise and the benefits it conveys, Doctor King is an instructor for the National Sports Professionals Association, teaching sport and spinal rehabilitation. He has been the Volunteer of the Year for the Easter Seals Society because of his work in educating the public through lectures on ergonomics and decreasing injuries in the workplace. Doctor King is a qualified expert in the field of spinal and traumatic injuries in the Court System, serving as an expert witness in the litigation of motor vehicle and work related injuries.
A multi-sport endurance athlete, having completed thirteen marathons, Doctor King cycles, runs, rows, and lifts weights daily. His hobbies include surfing, snowboarding, body boarding, and hanging out with his wife and two teenage boys.
Mike Romatowski, Certified Master Golf Fitness Instructor (Advantage Golf Body/Swing Connection Series) , Co-Owner CORE Fitness, Timonium, MD., Certified by the Titleist Perfomance Institute
Mike, is a multi-certified personal trainer and post-rehab exercise specialist. Mike co-owns CORE Fitness in Timonium , MD. He is currently certified by the American Council on Exercise and holds a Master Golf Fitness Instructor Certification from Natural Health and Sports, Inc. in Rockville , MD. This certification has since become the Titleist Performance Institute certification series.
A contributing writer for and certified by the Titleist Performance Institute (website(MyTPI.com), Mike has also authored two books: The Super Power Golfer(Pierpoint-Martin, 1998), and 18 Magic Moves for Golf Conditioning (Five Star Fitness, 2006). 18 Magic Moves is currently being expanded into a book entitled Ultimate Golf Conditioning , and will be published in July of 2007 by King Sports Publishers.
His competitive golf clients include 2005 U.S. Women's Open participant Marlowe Boukis, 2005 AJGA (Chicago) champion Michelle Grilli, and Mid Atlantic PGA multi-event winner Damon Lucas.
From 1997-2000 Mike taught the popular "Weekend at the Function Junction" workshop series, which gained popularity for its "100% hands-on" approach. During that time he also lectured extensively for the American Fitness Professionals Association (AFPA).
In creating the NSPA Golf Conditioning Specialist Certification, Mike is drawing on 10 years of experience in working with golfers. "What I have found," he says, "is that many exercises which, in theory, should be great for golfers, in fact have little value. Conversely, many exercises which, upon first glance, would appear to have no value to golfers, instead turn out to be among the best for golfers."
" I've also found that, although there are dozens of tests that one could use to evaluate golfers, there are really a select few that yield information of the highest value. The trainers and health professionals that attend this NSPA certification program will get the inside track to this knowledge. Using the 100% hands-on approach, we'll all learn together, and learn faster and more efficiently than with any other method."
Director of Explosive Performance Programs and President of Sport Specific Consulting. Rob has been conditioning athletes since 1990 and is considered a leader in reaction and first-step training. He has used his innovative ideas in training top level professional, college, and amateur athletes for football, soccer, basketball, hockey, baseball, and lacrosse. Rob graduated from George Mason University with a degree in sports medicine and worked for five years in the field of athletic training and sports physical therapy. He conducts lectures and workshops on sports-specific training throughout the nation.
Jamey T. Schrier, MPT, OCS
Jamey is the Owner and President of Schrier Physical Therapy, Inc., located in Rockville, Maryland. He holds a Masters degree in physical therapy from the University of Maryland, and a Bachelor of Science degree from the University of Delaware. He has the unique distinction of being recognized as a Board-Certified Clinical Specialist in Orthopedics from the American Physical Therapy Association.
Mr. Schrier has extensive post-graduate education and experience with manual physical therapy. His particular interests include back and neck pain conditions, sports injuries and athletic performance enhancement programs. In his spare time, when he is not with his family, Jamey is an avid basketball player and loves to play golf.
Ricky Gonzalez, BS, CSCS, CPT , Owner True Body Training in Miami, Florida
A multi-title winner in competitive bodybuilding, strength coach, and teacher, Ricky Gonzalez has spent many years of his life involved in the health and fitness industry.
He graduated on the dean's list from Florida International University with a Bachelor of Science Degree in Exercise Physiology, Minor in Dietetics/Nutrition, and became Head Strength and Conditioning Coach of Miami-Dade College, where he would train some of the nation's finest NJCAA nationally ranked collegiate athletes for 2 years.
Ricky's passion for personal training continued and came through for him in the biggest way possible in 2008, when he was rehired by Miami-Dade College as their NSPA (National Strength Professionals Association) Certified Personal Trainer Course Instructor where he teaches, certifies, and passes down the tools of being a successful personal trainer to those beginning their careers in the health and fitness industry.
Ralph Herr, NSPA CPT, FST, CKTP
Ralph's work with clients is focused on flexibility, mobility and proper recovery. The goal is to improve health and performance while reducing pain and the risk of injury.
Ralph is a Certified Fascial Stretch Therapist™ certified by The Stretch To Win Institute, Phoenix, AZ. This stretching technique outperformed conventional methods with lasting flexibility gains of 36 to 52 percent. Continually refined and improved, Fascial Stretch Therapy™ is used by professional athletes and Olympians from all over the world to achieve higher levels of performance. Ralph has worked with professional, and amateur, athletes in nearly all sports at all levels.
Additional certifications include, Certified Personal Trainer by NSPA (National Strength Professionals Association) & ACE (American Council on Exercise), USA Track & Field Level 1 Coach, Resistance Stretching Certification – Innovative Body Solutions and U6 TriggerPoint Performance Therapy.
Ralph is certified in the Functional Movement Screen and is a Certified Kinesio Taping Practitioner  (CKTP). He has had the opportunity to train with Robert McAtee, author of Facilitated Stretching, NSPA Advanced Hit Training, Anatomy Trains® Myofascial Techniques and has trained at Athlete's Performance – Phoenix.
Ralph has completed 24 marathons in 22 states. Ralph is a member of Marathon Maniacs at the Iridium Level having completed two marathons in two days on two continents. As a Fifty State Marathon Member, the goal is one marathon in each of the fifty states. Ralph is also a Certified Flight Instructor and has taught thousands of hours of flight instruction.
Bernard P. Vasquez, CCS
Bernard is a Certified Conditioning Specialist (CCS) with more than 25 years of experience as a strength trainer and nutrition consultant. He has successfully advised men and women from age 6 to 100 from all walks of life, but his passion is working with athletes. His innovative approach to sport specific conditioning and sports nutrition has benefited athletes from various sports.
He has gained the most recognition for his work with world-class powerlifters. Being a former competitive powerlifter, and drug-fee collegiate American Record holder, he has refereed national and world competitions for various drug-free organizations. As a coach, he utilized his knowledge and practical experience to develop innovative training and nutrition programs that generated unprecedented results under drug-tested conditions. His training methods gained national and international consideration when he was published in Powerlifting USA Magazine in the 1990's. He still remains active in the sport of powerlifting as a coach and referee. Two of his children are world-class powerlifters, having set dozens of world records for their respective age groups.
Since taking the NSPA CCS course in 2004, he has added High Intensity Training to his arsenal of training methods. He earned his CCS certification in 2005, became a technical editor for the NSPA course manual, and he has been administering practical exams to CPT and CCS candidates since 2006.
Though he earned an Associate of Arts degree from Montgomery College, and two Bachelor of Science degrees from the University of Maryland, he is most proud of earning his Certified Conditioning Specialist credential from the NSPA.
Peter Rappoli, M.S., CCS, CSCS, Co-owner Elite Health and Fitness Center in Stoughton, Mass.
Peter is a co-owner of Elite Health & Fitness Center and cofounder of the nationally recognized Elite Sports Fitness Boot Camp program. Peter has 20 years experience as a full-time personal trainer and received his Associates degree from Ashworth College in Healthcare Management and his Bachelor's degree in Health & Fitness from the Optimal Performance Institute/University. He received his Master's degree in nutrition from Huntington College of Health Sciences. In addition, he holds two career diplomas; one in nutrition and another in fitness from Ashworth College. At Ashworth College he was awarded the DETC (Distance Education Training Counsel) Outstanding Graduate of the year award.
Peter is certified as a personal trainer through ACSM, NCSF, AFAA, FRA, NCCPT, and IFA. He is board certified by the American Association of Drugless Practitioners. He is also a certified strength and conditioning specialist through the NSCA and NSPA and certified TRX instructor. He is a member of the NSCA.
In addition to working closely with the training staff of both the Boston Red Sox and the Anaheim Angels, Peter was the strength and conditioning coach for the Mo Vaughn, Trot Nixon and Nomar Garciaparra Baseball Camps, as well as, Jim Craig's Gold Medal Hockey School. He is currently the strength and conditioning coach for Jason Varitek's Baseball Camp. Peter has worked as the strength and conditioning coach for Bryant College, Stonehill College and Suffolk University. He was the personal trainer for the American League baseball's MVP.
Joannie Mallet, CPT, CCS, CPRS Owner, Cut to the Core Fitness
David Sandler, CCS, Florida Atlantic University
Michael E. Kelly, MHSC, C-NMT, CSCS, CCS, P.R.E.S., Operations Director, Lifebridge Health & Fitness
Advisory Board
NSPA Advisory Board
Dr. Evan Brody, PhD., Exercise Physiologist
John Dunn, Head Strength Coach, Washington Redskins
Jeff Friday, Head Strength Coach, Baltimore Ravens
John Hanrahan, CCS, Personal Training Director, LifeTime Fitness
Brad Hatfield, Ph.D., Professor of Sports Sciences, University of MD
Dr. Vern Jimmerson, PhD., CPT, ACSM
Ken Mannie, Head Strength Coach, Michigan State University
Peter Rappoli, M.S., CCS, CSCS
Dan Riley, Head Strength Coach, Houston Texans
Dr. Wayne Westcott, PhD., Research Director, YMCA
NSPA Medical Advisory Board
Howard S. Goldstein, M.D., Cardiologist/Internal Medicine
Dr. L. Neil King, Sports Medicine Chiropractor
Dr. Barry Boden
Caitlyn E. Lorenze, RD, LD, Nutrition Consultant
Sid Miller, CCS, Therapeutic and Sports Massage
Jamey Schrier, M.P.T, O.C.S., Board Certified Orthopedic Specialist, Owner – Schrier Physical Therapy, Inc.
Witte, Palmer, Tuck, Bender & Ackerman, M.D.'s Shady Grove Orthopedic Association